Accommodation in various price ranges nearby the conference venue has been booked for participants 10 – 16 August since Reykjavík could be quite crowded during the conference period.
To secure the accommodation of your choice, we recommend that you submit your registration with hotel booking as early as possible.
In case you have already registered you can book a room by sending us an email at nopsa2020@sena.is
Note that rooms cannot be guaranteed after 1 June.
Registration fee:
Early bird until 30 April – ISK 53.000
Late registration until 1 July – ISK 66.250
Doctoral students until 1 July – ISK 53.000
Hagatorg, 107 Reykjavík
Located in the heart of Reykjavík's popular west-town district, the Radisson Blu Saga Hotel is also within the Reykjavík's educational district.
The newly renovated hotel has 235 rooms with views of Reykjavík's surrounding mountains and glaciers along and 7 fully equipped meeting rooms with natural light for conferences and personal events. The services include an on-site gym, a bank, a beauty parlor, and a hair salon.
A choice of on-site two restaurants, both known for their award-winning chefs, give you an insight into the rich Icelandic culinary tradition along with a unique "head to tail" concept that brings forth the best of Icelandic produce from the local farmers and manufacturers. The Grillid, located on the top floor of the hotel, is an acclaimed restaurant with a breathtaking panoramic view of the city while the Mímir restaurant is a vibrant new addition located on the first floor of the hotel and offers an exotic selection in food and drink.
Price
Single use with breakfast ISK 33.400
Double use with breakfast ISK 36.400
Nauthólsvegur 52, 101 Reykjavík
Icelandair Hotel Reykjavík Natura is located in the beautiful surroundings of Öskjuhlíð hill and Nauthólsvík beach. The hotel is certified as a Green Hotel and operates accordingly. With birds singing just for you, and fresh ocean air all around, it's nice to know that you're still only a short walk from Reykjavik center.
After a refreshing morning walk or a full day on the town, our in-hotel spa awaits you to relax and unwind. For dinner, our restaurant, Satt, offers fresh, local produce and flavors that are as good for your soul as they are for your body.
Price
Single use with breakfast ISK 30.100
Double use with breakfast ISK 34.700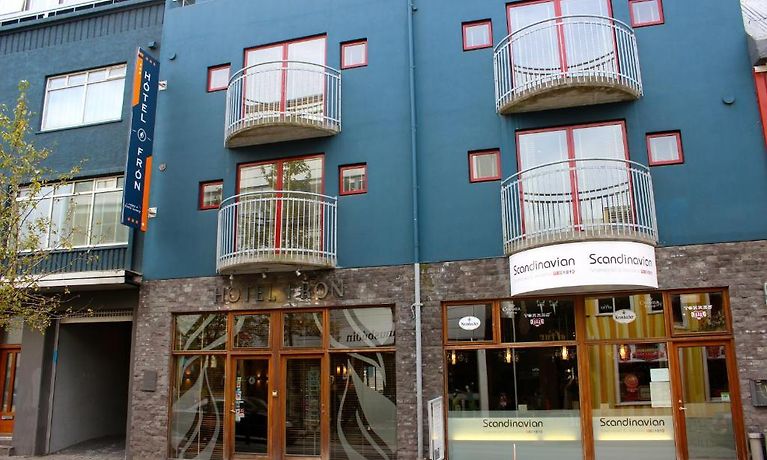 Laugavegur 22a, 101 Reykjavík
Hotel Frón is located in downtown Reykjavik close to all the main shops, restaurants, cafés, galleries and museums. We pride our selves in providing great friendly service. Do not hesitate to ask our staff for some assistance while staying at Hotel Frón.
Our stylishly furnished single rooms combine modern facilities with a welcoming atmosphere. Each room is fitted with parquet flooring, a 120 cm bed, an attractively tiled en-suite bathroom with a shower, a direct-dial telephone, a minibar, satellite TV, a safe to store valuables and wireless, free high-speed Internet access, hairdryer.
Price
Single use with breakfast ISK 30.200
Double use with breakfast ISK 32.500
Skólavörðustígur 45, 101 Reykjavík
Hotel Leifur Eiríksson is set in an old respectable house right in the center of Reykjavík. The hotel is on Skólavörðustígur which is one of the most sought after streets in Reykjavík where you will find numerous galleries as well as designer and specialty shops. Across the street from the hotel is the magnificent Hallgrímskirkja, the most famous landmark of Reykjavík.
Hotel Leifur Eiríksson has 47 rooms. Breakfast is included.The hotel and its setting in the old center of Reykjavik welcome you throughout the year. The staff at Hotel Leifur Eiríksson are very knowledgeable about Reykjavik and will gladly help you to get to know the heart of the city. We will provide all the information you need in order for you to make the most of your stay in Reykjavik. It will be unforgettable.
Our hotel is family run and not a part of a big hotel-chain. Whether your stay in Reykjavik is planned for relaxation, business, shopping or simply to get to know the many facets of Reykjavik – We will meet your needs!
Price
Single use with breakfast ISK 21.300
Double use with breakfast ISK 25.600
Bárugata 11, 101 Reykjavík
Hotel Hilda is a boutique hotel in the center of Reykjavik located on Bárugata 11 – a quiet street, and only a 3 minute walk to downtown. The hotel originally opened in May 2012, and then became a boutique hotel after the old guesthouse was completely renovated.
Hotel Hilda is a self check in hotel, offering 15 rooms on 4 floors; the rooms are bright, quaint and comfortable. All rooms are singularly decorated with photography portraying Icelandic bird wild life. The corridors are decorated with Icelandic art to give guests an insight into Icelandic artists.
All rooms have an en-suite bathroom, flat screen TV, cable network and free WI-FI. We offer disabled guests a wheelchair accessible room, on the ground floor, next to the breakfast area and our luggage elevator stops at all 4 floors so our guests don´t have to carry luggage up or down any stairs.
Price
Double use with breakfast ISK 28.200
Superior double use with breakfast ISK 29.900
Þórunnartún 4, 105 Reykjavík
Storm Hotel is a 93 room hotel in Reykjavik city centre offering stylish and comfortable quality accommodation. The hotel is located between Reykjavik's main business district and Laugavegur shopping street.
Storm Hotel offers a Nordic-inspired designed combined with functionality, quality and style. Every guestroom has a sleek bathroom and an ultra-comfortable luxury bed as well as free Wireless internet connection.
Storm Hotel offers 93 stylish and comfortable rooms with quality furnishing. Our rooms immerse you in soothing colours and textures inspired by Nordic design. Dive into luxury beds and stay connected with WiFi. In our rooms you can find 40″ flat-screen TV, phone, parquet floors, bathroom with shower, tee- and coffee set.
Price
Single use with breakfast ISK 30.200
Double use with breakfast ISK 33.500
Þórsgata 26, 101 Reykjavík
It is well located in the old city center. Across the street from Hallgrímskirkja(church) and the beautiful sculpture garden of The National Einar Jónsson Gallery. The Flybus from Keflavik airport stops right by our doorstep. Only a few minutes' walk away from the busy streets with popular cafes and restaurants, and good variety of shops, museums and art galleries.
Price
Single use with breakfast ISK 27.600
Double use with breakfast ISK 35.200
Single use with shared facilities and breakfast ISK 21.300
Double use with shared facilities and breakfast ISK 28.500
Hringbraut 29, 101 Reykjavík
Student hostel is located in central Reykjavik on campus at the University of Iceland. Open to everyone during the summer months!
The hostel is within a short walking distance from downtown Reykjavik and it's shopping street Laugavegur as well as the main landmarks in Reykjavik, i.e. Hallgrimskirkja, Harpa and the Pearl (Perlan). Student hostel is on campus at the University of Iceland, with various service such as the University Bookstore, Bookstore Café, Hama (canteen) and the Student Cellar (bar).
The hostel has 43 twin rooms, with city or garden views. All rooms have shared bathroom and kitchen facilities. Free WiFi.
Price
Single use no breakfast ISK 15.900
Double use no breakfast ISK 15.900